WORKINGS OF ACCESS NEPHROLOGY
The Nephrologists work in consultation and in liason with the referring General Practitioner. We have strong historical links and excellent working relations with the General Practitioner Community.
Telephone advisories to or from your general practitioner and the Nephrologist  are encouraged!
Consultations are in Canberra at Corinna Chambers, Woden, and  also at  clinics in New South Wales.
The clinics are at Bega, Moruya, Tumut and Batehaven.
These clinics occur once or twice a month.
Every effort is made to consult the patient in their own locality or precinct. Pathology tests and imaging are sourced locally.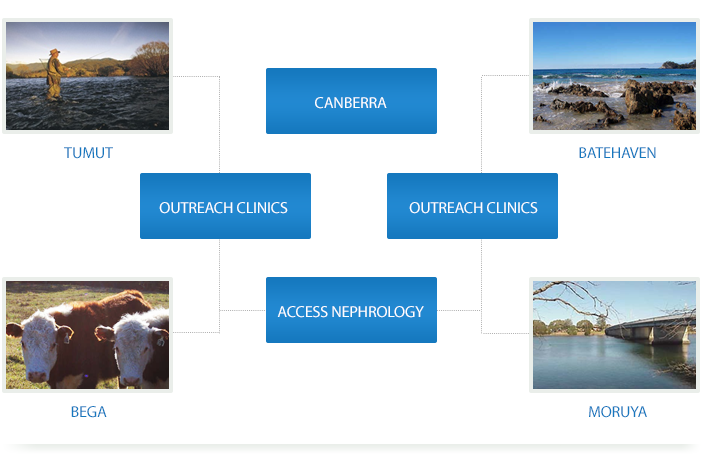 Renal biopsy
This test is performed through the Capital Imaging Group at the Calvary John James Hospital and processed through ACT Pathology.
Bone biopsy
This test is performed in the theaters at Calvary John James Hospital under sedation as a day only procedure
Hemodialysis
Access Nephrology manages 60 patients on haemodialysis in the ACT and Southern  NSW.
Private Haemodialysis is at The Yorke Dialysis Unit at The Calvary John James Hospital precinct
Hemodialysis is available at the Canberra Hospital, associated satellite dialysis units, and in New South Wales, at Bega, Moruya, Goulburn and Wagga Base Hospitals.
Access Nephrology Nephrologists will manage patients on dialysis in the public hospital system  in conjunction with the staff in the public system, if that is the choice of the patient.
Kidney transplantation
Kidney transplantation is the optimal form of renal replacement therapy if at all possible. About 25% of patients who present to end-stage kidney failure are candidates for kidney transplantation.
Patients managed by Access Nephrology travel to the Royal North Shore Hospital for Kidney Transplantation.
Access Nephrology supervises 8 to 10 kidney transplantations per year, and manages 70 Kidney Transplant patients.
The clinical workups for transplantation are organized and managed by Access Nephrology in conjunction with the transplant coordinators at the Royal North Shore Hospital.
The transplant team from the Royal North Shore Hospital travels to Canberra to consult candidate patients in our rooms at Francis Chambers.
Post transplantation, patients are managed by our Nephrologists in close liaison with the transplant team of the Royal North Shore Hospital. The system is smooth, collaborative and has excellent outcomes (see Results section).
Access nephrology promotes preemptive transplantation with living donors as the preferred form of renal replacement therapy, if appropriate.
Regional Hospitals, Pharmacy and Dialysis
South East Regional Hospital Bega 0264929111
Moruya Hospital 0244742666
Tumut Hospital 0269470800
Wagga Base Hospital 0269386666